Best Ever Cookie Connection Newsletter
Issue 013
November 19, 2012
Hi,
Happy Almost-Thanksgiving from Best Ever Cookie Collection
Making, Baking, Sharing, and More for Busy Home Cooks and Beginning Bakers!
Best-Ever-Cookie-Collection News...
We've been hard at work on our site and have recently completed a complete overhaul at www.best-ever-cookie-collection.com. If you haven't visited recently, please stop by and let us know what you think - we're very proud of the new design and hope you are too!
---
Enter BECC's Inaugural Holiday Cookie Contest!
We are very excited to share with you our very first Holiday Cookie Contest - click here to read more about it and enter your favorite cookie recipe.
We've got some great prizes, including a brand new KitchenAid 4.5 Quart Stand Mixer to the Grand Prize Winner!
Share your favorite recipe, brag a little about it, include a nice picture and who knows - you just might take home the Grand Prize and have bragging rights as Best Ever Cookie Collection's Top Holiday Cookie Recipe of 2012!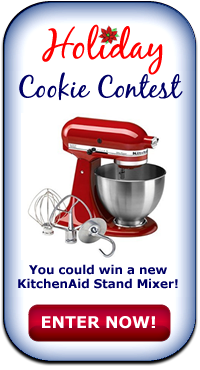 ---
Italian Fig Pinwheels
If you like Fig Newtons, you'll love this easy homemade recipe for Fig Pinwheel Cookies.
They're certain to dress up your holiday dessert table!
---
Baking Sheet Guide
Are you looking for the perfect cookie sheet this holiday season?
Keep reading for some great tips on selecting the right one for your needs.
All cookie sheets are not created equal. If yours are warped, dark in color, have baked on grease, or very lightweight, you might find these hints helpful in choosing some new bakeware.
Avoid dark sheets - When using dark sheets your cookies may easily overbake and you'll likely need to adjust your oven temperature down to get your cookies to come out just right.
Choose the right size - You want the right size cookie sheets that properly fit inside your oven. You should have at least 1 to 2 inches of clearance around all sides.
Jelly-Roll Pans - Are best used when baking bars and brownies but if used for baking cookies, they may not brown evenly.
Heavy-Weight Shiny Pans - are best baking cookies. Low or no sides allow the heat to evenly bake your cookies.
---
Mark Your Cookie Calendar
The first week in December is Cookie Cutter Week
December 4 - National Cookie Day
December 8 - Chocolate Brownies Day
December 23 - National Pfeffernuesse Day
---
Easy Bar Cookies eCookbook
If you prefer to bake your cookie bars starting off with cake or cookie mix, check out:
---
This Month's Tips & Tricks for Cookie Baking Success
If you bake cookies a head of time and freeze them, be sure to thaw your cookies thoroughly in the refrigerator or on the counter, at room temperature.
Leave the cookies inside their container while they are thawing or else they can easily get ruined as a result of moisture.
If you are filling or frosting your cookies, make sure they are completely thawed before starting.
---
Best Ever Cookie Collection Facebook Page
Come Join Us on Facebook! Have you become a fan of Best Ever Cookie Collection on Facebook yet?
If not, what are you waiting for? Please consider this your official invitation to visit us at www.facebook.com/BestEverCookieCollection where we are bringing together a community of like-minded cookie lovers.
To become a fan, just click the "like" button on our Facebook page. Join our online conversation and stay up-to-date on all the latest news.
AND, by becoming a Best Ever Cookie Collection fan on Facebook, you'll be eligible for our special fan giveaways and be able to chat with us as well as the other visitors on our page.
Our favorite thing about our Facebook page is that it's a place where we can connect with so many of you all at once!
Visit our Facebook page for more information and to become a fan today.
If you like this ezine, please do your friends and us a big favor and "pay it forward" by forwarding this newsletter.
If a friend did forward this to you and you like what you read, please subscribe by visiting Best Ever Cookie Collection.
PLEASE NOTE: For an easy-to-view version of this newsletter, or past issues, please visit the Best Ever Cookie Collection Back Issues Page.
Until next time -- wishing you lots of Cookie Joy -- Cookie Baking, Cookie Eating, Cookie Sharing!
Warmly,
Martha