Cookie Cookbooks Reviews
---
I love cookbooks, especially Cookie Cookbooks>.
I have hundreds and hundreds of cookbooks crowding my bookshelves in Wisconsin and Phoenix - all kinds of cookbooks, old and new cookbooks, popular and obscure cookbooks, all purpose and specialty cookbooks, diet and healthy cookbooks and of course cookies books and baking books.
Name a cookbook subject and there's a good chance I've got a book about it.
I just can't seem to help myself.
Collecting cookbooks is my only serious addiction!
I'm a self declared cookbook geek!
I can't seem to help myself. They feel more like friends than books.
In fact I couldn't wait to get back to Wisconsin this summer to reconnect with some of my favorites and I'm having a heck of a time deciding which ones to take back to Phoenix with me for the winter!
I know I'm not alone in my fascination.
Cookbooks are very popular, even among those who don't cook and bake. I read recently that more than 7,000 new recipe books get published each and every year.
That's a lot of cookbooks!
So, how do you decide which Cookie Cookbooks to buy and which to skip?
I say, if you are a cookie lover and cookbook lover, buy them all!! (OK, maybe that's not very practical.)
Cookie Cook Books come in all kinds of styles. There are quick and easy cookies books, specialty cookie books, ethnic cookies cookbooks, cookie books by home cooks and by professional bakers!
So, selecting the right Cookie Recipe Book for you comes down to deciding what you are looking for.
That's where I'm here to help.
I'm beginning to write reviews for my favorite baking and Cookies Books. I will be as objective as possible, keeping in mind that I love recipe books.
And, because I believe in focusing on what I like and letting what I don't go, I won't publish reviews of books I don't like. For me, it's more important to focus on the positive!
If you have a question about a specific cookie cookbook, send me an email and if I have it and/or am familiar with it, I will be happy to share what I know. And if I'm not, I'll tell you!
Cookie Cookbooks Reviews
Tate's Bake Shop Cookbook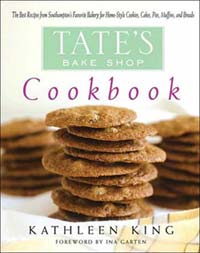 Do you love cookbooks that are all about baking? If you do, you should check out Tate's Bake Shop Cookbook: The Best Recipes from Southampton's Favorite Bakery for Homestyle Cookies, Cakes, Pies, Muffins, and Breads
This is a great cookbook chalk full of recipes for yummy home-style baked goods. The Cookbook's foreward is written by Ina Garten, who carried Tate's Bake Shop baked goods at her Barefoot Contessa Shop for years.
This warm and friendly book begins with some basic information regarding tips and techniques for baking success. Some of Kathleen's favorite baking tools are Silpat Nonstick Silicone Baking Mats
, Oven Thermometers
, and Microplane Zesters
- three things I would hate to have to live without!
Probably her best advice is given in the last sentence where she says, "Most of all, have fun! Don't take it seriously. If you screw up, don't worry about it -- they're only cookies!
The recipes are easy to follow and relatively simple. There's nothing fancy or pretentious here.
The book includes chapters for: Muffins and Scones, Pound Cakes and Breads, Cookies and Bars, Pies, Crisps, and Cobblers, Cakes, and Health Alternatives.
Everything that I've made from this book so far has been delicious. And there are so many more recipes that I can't wait to try. Just reading about them makes me want to run into the kitchen and get baking, which is not something I can say about most baking books.
Favorites to date include mocha pecan muffins, banana chocolate chip muffins, oatmeal scones, apricot ginger scones, sweet potato pie, chocolate peanut butter pie, apple cranberry crisp, chocolate mousse cake, chocolate chip cake and chocolate fudge cupcakes with peanut butter frosting, chocolate chip coconut macadamia nut cookies, chocolate chip pie, and the crispy chocolate chip cookies for which her bakery is so famous.
One word of caution, the book includes a few editorial missteps. For example, the recipe for toffee pecan cookies doesn't list pecans in the ingredient list (1 cup, chopped). However, I haven't run into anything that can't be overcome with a little research and/or common sense, especially if you have some baking experience.
Highly Recommended
Betty Crocker Cooky Book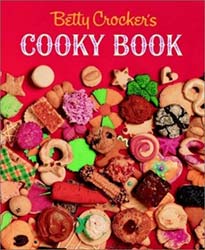 Betty Crocker's classic "Cooky Book
," originally published in 1963, is back and I for one am glad it is. If you grew up in the 60s or 70s and your Mom baked cookies, she probably had a copy of Betty's "Cooky Book" as her cookie baking resource.
Just opening this red covered spiral bound book is a delightful trip down memory lane. It's full of all kinds of old-fashioned cookie recipes, photographs, and illustrations, just as they originally appeared back in 1963. If you are interested in recreating the cookies you grew up eating or creating new cookie baking memories for yourself, this is the cookie recipe book you want.
If you are new to cookie baking, you may need an experienced cookie baker to walk you through some of the common abbreviations and terms used in the book. This book was written back in the day when recipes were written by experienced cooks for experienced cooks so they included common baking abbreviations (tsp, tbsp) and baking terms (cream, fold, etc.).
Topics covered include drop cookies, bar cookies, refrigerator cookies, rolled cookies, pressed, cookies, molded cookies, holiday cookies for Valentine's Day, St. Patrick's Day, Easter, Halloween, and Christmas, Cookies for Children, Lunchbox Cookies, Cookies that Travel, Heritage Cookies, Cookies for Special Diets, Quick and Easy Cookies that use Mixes, Teatime Cookies, Cookies for a Crowd, and Confections.
The recipe book concludes with several pages devoted to the most popular cookies of various eras from the past hundred plus years - my kind of Cookie History Lesson!
This is a fun nostalgic book for all cookie bakers and cookbook collectors. Be forewarned. Some of the recipes and photos look dated, but that's the point. The Betty Crocker Cooky Book
was originally published more than 40 years ago!
---
---
Betty Crocker Cookie Book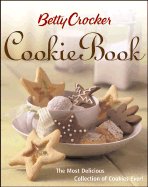 The Betty Crocker Cookie Book
is a great basic cookie book filled with more than 200 recipes for all kinds of cookies, from the tried and true classics (chocolate chip, oatmeal, peanut butter, molasses) to more trendy treats (tiramisu cheesecake bars, amaretto brownies, orange almond biscotti, cappuccino pistachio biscotti).
The Betty Crocker Cookie book begins with lots of helpful information on the "doughs" and "doughn'ts" of cookie baking, which is important for those new to cookie baking.
Detailed explanations for how to measure ingredients, the effects of different fats on cookie texture, melting chocolate, common baking equivalents and substitutions, and the effects different kinds of equipment, such as cookie sheets can have on your cookies.
There are also helpful tips and hints for rolling cookie dough evenly, lining baking pans, cooling, storing, and freezing cookies.
There are chapters devoted to:
Easy Drop Cookies
Bars and Brownies
Cookies for Kids
Cookies Made from a Mix
Hand Shaped and Pressed Cookies
Rolled Cut Out Cookies
Fancy Cookies for Celebrations
Cookies for Special Diets
Pictures for many of the cookies are scattered throughout this cookie recipe book. Most pages include additional tips and hints for cookie baking success in the sidebar.
If you are an experienced cookie baker, you may find this cookbook too basic. If you prefer to bake only from scratch this may not be the best book for you either, since there is a whole chapter devoted to using mixes.
This is also not the Betty Crocker Cookie Book from 1963. It has been updated significantly to reflect current baking trends.
If you are new to cookie baking and/or prefer easy home style cookies that don't take all day or a require a culinary degree, the Betty Crocker Cookie Book
is definitely a book you'll want for your collection.
I've made more than a dozen cookie recipes from this book that have all turned out well and have tagged many more pages with recipes I want to try!
More of My Favorite Cookie Cookbooks Awaiting Review…
101 Easy Peasy Cookie Recipes
AllRecipes Tried and True Cookies
America's Test Kitchen Family Baking Book
Baking from my Home to Yours
Baking with Julia
Betty Crocker Baking Basics
Brownie Mix Bliss
Cake Mix Cookies
Christmas Cookies Are for Giving
Cookie Exchange Favorites - A Wellesley Tradition
Fanny Farmer Baking Book
How to Host a Cookie Exchange Handbook
Kathleen's Bakeshop Cookbook
King Arthur Flour Baking Companion
King Arthur Flour Cookie Companion
King Arthur Flour Whole Grain Baking
Martha Stewart's Cookies
Mom's Big Book of Baking
Mom's Big Book of Cookies
Mrs. Field's Cookie Book
No Bake Cookies
Old Fashioned Country Cookies (Goosberry Patch)
Rose's Christmas Cookies
Smart Cookies
The Ultimate Cookie Book
The Weekend Baker
The Wellesley Cookie Exchange Cookbook
Totally Cookies Cookbook
Back from Cookie Cookbooks to Best Ever Cookie Collection home
---
---