Types of Cookies
---
Which cookies are your favorites?
Do you prefer types of cookies that are crisp, crunchy, sandy or soft?
Does it depend on the cookie and/or your mood?
Most cookies are baked until crisp, some until just soft, while others are not baked at all.
Hundreds of thousands of cookie recipes and variations exist. Is it wrong to want to try them all?
Cookie types are broadly classified by how they are formed: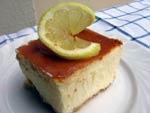 Bar Cookies or Squares
These are the quickest and easiest type of cookie to make. Batter or dough is poured or pressed into a pan and cut into cookie-sized pieces after baking. Brownies are the classic example of a batter-type bar cookie.
Biscotti
Crisp cookies -- usually containing nuts -- that are baked twice. First the dough is formed into flattened logs, baked, then sliced and baked again until dry and crisp.
Brownies
Chocolate brownies are a baked and sliced form of rich and dense chocolate cake. They can be either cakey or fudgy depending on their density and sometimes they include nuts, frosting, chocolate or peanut butter chips.
One brownie variation is the blondie which is made with no chocolate and substitutes in brown sugar.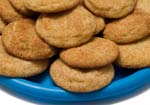 Cake Mix Cookies
Easy to make cookie recipes that begin with cake mix.
No time to make your cookies from scratch, but want the same great taste? Try one of our quick and easy cake mix cookies recipes today.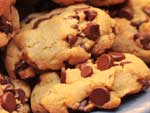 Chocolate Chip Cookies
A growing collection of our favorite recipes for chocolate chip cookies. The best of the best collection of classic recipes, quick and easy chocolate chip cookies, chocolate chip squares, shaped choco chippers, those with fancy flavors and ingredients like cherry chips, healthier chocolate chip cookies and a section with other desserts that incorporate chocolate chip cookie dough or baked cookies.
Cookie Cutter Cookies
Another popular category, these cookies are often refrigerated before shaping and baking. Gingerbread men and traditional Christmas cutout cookies are good examples of rolled cookies.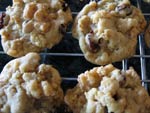 Drop Cookies
This is the most popular cookie type, created by dropping cookie dough from a teaspoon or tablespoon onto a prepared cookie sheet. Just mix, drop, bake, and enjoy -- definitely an easy cookie type.
Drop cookie dough varies in texture from quite soft to stiff. When chilled, the dough can be formed into balls and flattened slightly for baking. During baking, the dough flattens and spreads.
Popular examples of drop cookies include oatmeal raisin cookies, peanut butter cookies, chocolate chip cookies, and old-fashioned sugar cookies.
No Bake Cookies
Another of the easy cookies - no bake cookies are a great way for kids to get started in the kitchen. I remember making my first batch of no bake rice crispy squares decades ago at Girls' Club.
Making no bake cookies is a fun way for kids to work on their reading and math skills by following the recipe and measuring ingredients while having fun learning to cook.
Some of our favorite no bake cookie recipes include rice krispie bars, coconut date balls, rum balls, and peanut butter bars.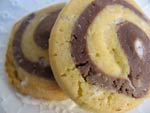 Refrigerator Cookies (Ice Box Cookies)
These were originally referred to as "ice box cookies," and are made from stiff dough that is refrigerated and usually formed into a cylinder before slicing and baking. Contemporary cookbooks may categorize refrigerator cookies as sliced cookies. This is another one for the great and easy cookie category.
You can keep a cylinder of cookie dough in the fridge or freezer then slice, bake, and enjoy a warm, fresh from the oven, homemade cookie whenever a cookie craving strikes.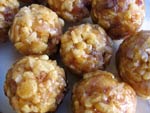 Shaped Cookies and Spritz Cookies
These cookies are shaped by hand or with molds. Shortbread is a classic example of a shaped cookie.
Additional tips and techniques for how to make perfect cookies, depending on your own unique cookie likes and dislikes.
Back from Types of Cookies to Drop Cookie Recipes
Back from Types of Cookies to Best Ever Cookie Collection home
---
---