Toffee Coffee Cupids
by Bonnie Kalmar
(Smiths Creek, MI, USA)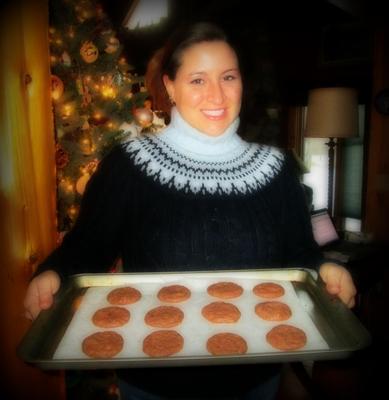 Toffee Coffee Cupid Cookies
It's hard to say where or when we first hear it, but at some point, the phrase "the way to man's heart is through his stomach" works its way into the conscious mind, and young ladies scramble for their great-grandmother's recipe collections and whip themselves into a frenzy.

I was twenty when the thought bloomed generously across my frontal lobes while playing Euchre in an house belonging to four adorable young men, three of whom I adored.

"I was thinking I might bake some cookies for Christmas this year." My friend Dayna furrowed her brow and looked bemused. She belonged with the fourth guy in the group and knew full well that I didn't even know how long to microwave a hot dog, let alone bake a batch of cookies.

"Any requests?" Plain old chocolate chip ruled the room, and I trotted home excitedly, having never really baked much of anything in my life.

Furthermore, my mother's recipes were complicated; I remembered her baking them in my youth, but her death five years earlier had preempted mother-daughter cookie baking efforts.

It seemed like Tollhouse had a perfectly good recipe on the bag, so I followed it, and the boys loved the results, and we had a merry and wonderful Christmas.

A cookie baking star had just began to glow.

It's strange to think it's been 13 years now that I have been baking cookies. I picked up recipes from all over: newspapers, websites, friends.

I wove in interesting ingredients like dried fruit and I baked them all with love and hope in my heart for those who eat them.

During that time, I baked many different varieties, and they were enjoyed by boyfriends that were just as different from each other.

There was a four-berry butter biting card shark; a mint-mocha loving store manager; a blueberry-oatmeal obsessed cowboy; a double-chunk chocolate chomping hunter; a peanut-butter cup tasting tattoo artist; and a cherry-almond adoring cable guy.

Although our lives may have taken us down different roads now, I always remember them by the cookies they craved.

This year's holiday bounty brought many new friends to feed. Unlike in years past, it isn't about attracting romance anymore, but about the feeling of making someone's day with the perfect little treat at the right moment.

Instead of giving gifts this year, I baked. I bagged and delivered 38 dozen cookies, all of different varieties from my past. I always try at least one new concept recipe, and this season's new cookie on the (butcher's) block was my "Toffee Coffee Cupid," and it was by far the most popular of any I have made yet.

This tasty little idea simmered into my mind while enjoying my morning cup of coffee one day. "What would be the perfect coffee cookie?"

I thought, and immediately envisioned a chewy chocolate cookie with a toffee crunch and just a hint of coffee and hazelnut flavoring.

Who knows? Maybe this will be the one that catches Mr. Right! Fingers crossed!

Toffee Coffee Cupids Cookie Recipe
Ingredients:
4 1/2 cups flour
2 teaspoons baking soda
1 teaspoon baking powder
1 teaspoon salt
2 cups butter (softened)
1 1/2 cups brown sugar
1/2 sugar
2 (3.9 oounce) boxes of chocolate instant pudding
4 eggs
1 teaspoon coffee extract
1 teaspoon hazelnut extract
2 (8-ounce) Hershey's Heath Bits 'O' Brickle Toffee bits
Directions:
Preheat oven to 350 degrees F (175 degrees C). Sift flour, baking soda, baking powder & salt. Set aside.
In a large bowl, cream together butter, brown sugar and white sugar. Mix in pudding mix until blended. Stir in eggs and coffee and hazelnut extracts and beat well. Add flour mixture and stir well. Lastly, add Heath toffee bites and mix very well.
Drop rounded cookies onto parchment-lined cookie sheets. Bake for 10 to 12 minutes and allow to cool on cooling racks.
This recipe makes 7 to 8 dozen Toffee Coffee Cupid Cookies (but can easily be halved for a smaller batch)
Return to Holiday Cookie Contest 2012.