Cookie Cutter Cookies
---
Cookie Cutter Cookies are the category of homemade cookies most associated with the holidays.
They are very popular at Christmas, especially with kids, who enjoy cut out cookies at any time of year if they can get their hands on them!
Fancy cookie bakers often have huge cookie cutter collections that include the perfect cookie cutters for all occasions.
Cut out cookies can be as simple or as fancy as you desire - from simple sugar cookies and gingerbread people to intricately hand decorated works of cookie art.
It's important to respect your interests and time limits when using cookie cutters to make cookies.
You can make simple cut out cookies with a thin-rimmed glass or biscuit cutter that you sprinkle with sugar or unleash your inner cookie artist by using fancy cookie cutters and decorating with colored icings and a wide variety of edible decorations.
The choice is always yours!
The key is to not tackle difficult cookie recipes if you find it stressful, but if you enjoy it and have fun, go for it.
Tips and Hints for Making Cookie Cutter Cookies:
Chill cut out cookies dough thoroughly before attempting to roll it out.
If the dough is sticky, lightly sprinkle the rolling surface and rolling pin with flour or confectioner's sugar.
To prevent sticking you may want to roll the cookie dough out between two sheets of wax paper or parchment paper.
Most recipes will instruct you to roll the dough out evenly to a uniform thickness from 1/8 to 1/4 inch. The thinner your dough/cookies, the crispier the results will be.
Dip cookie cutters in flour to prevent sticking.
Use a thin metal spatula to transfer your cookies from the rolling/cutting surface to your cookie sheets.
Re-roll the scraps and continue to cut until all dough is used.
If the dough becomes too sticky, refrigerate it briefly.
If you hate rolling and cutting cookie dough, most of these types of dough can be shaped into logs and sliced and baked instead.
Once baked, be sure to let your cookie firm up a bit on the cookie sheet before attempting to transfer them to your cooling rack.
Cookie Cutter Cookies Recipes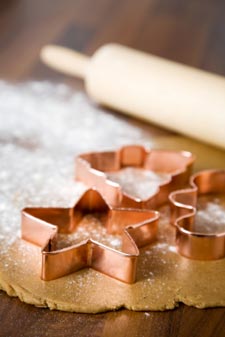 Favorite Cookie Cutter Cookie Recipes from around the Web
Helpful Cookie Baking Supplies:
Back from Cookie Cutter Cookies to Types of Cookies
Back from Cookie Cutter Cookies to Best Ever Cookie Collection
---
---