Fun and Easy Recipes for Halloween Cookies
---
Every holiday has it's traditions and Halloween is no exception.
There really isn't a single traditional Halloween Cookie, but there are lots of great cookies and treats packed with the Autumn flavors of apple, cranberry, pumpkin (it's not just for Thanksgiving and Christmas), apple, maple and pecan!
Right after carving pumpkins, baking and decorating Halloween cookies has to be the next most popular activity!
Your young chefs can help you measure and mix the ingredients and then, the best part of all - cookie decorating time.
And sugar cookie dough is perfect for Halloween cookies.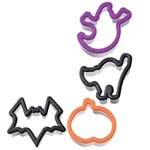 You can find all sorts of fun Halloween-themed cookie cutter sets
and individual cookie cutters in shapes like Pumpkins
, Winged Bats
, Witch Hats
, Spiders
, Jack O'Lanterns
, Coffins
, Black Cats
, and Ghosts
that are perfect for making great cookies and then decorating them.
You can also find Push N Print Cookie Cutter Sets
or Halloween Cookie Pans
with shapes such as Frankenstein, cob webs, mummy heads, haunted houses and cauldrons which are also perfect for baking unique, Halloween themed cookies.
Not to mention cut out cookies are great activities for kids too because they can actively participate and create to their hearts content.
We'll share with you our favorite recipes for Halloween cookies and continue to add to it as we make new discoveries, so be sure to check back often.
Want to share your own Halloween cookie recipe on our site?
There just isn't enough time for us to post all the fun Halloween recipes that we know about, so it would be great to hear from you with your own favorite recipes.
Pictures mean a lot too, so feel free to attach any photos of your baked Halloween treats that you'd like to share.
We've got a great selection of Halloween recipes for you to choose from: easy drop cookies, squares, bars, cut out cookies and more.
Have you heard about the new limited edition Candy Corn Oreos?
Halloween Cookies Recipes
More Halloween Ideas including Halloween quotes, decorating ideas, how to make a haunted house, spooky cake decorations, Halloween party snacks and more!
Halloween Cupcakes
For fabulous Halloween Cupcake Ideas to complement your Halloween celebration, visit Cupcakes-Plain-and-Fancy.com for inspiration and instructions to create beautiful Halloween Cupcakes!
Back from Halloween Cookies to Best Ever Cookie Collection
Have A Great Recipe For Halloween Cookies?
Do you have a great halloween cookie recipe? Share it with us!
---
---