My Grandma's Hungarian Keflee Cookies
by Barbara Pakan
(Munster, IN, USA)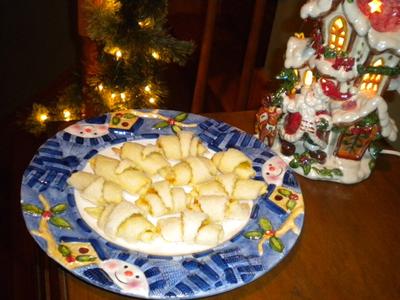 My Grandma's Hungarian Keflee Cookies
When I was about 12, I was rummaging through recipes in my mom's recipe box. There I found an old, ripped and yellowed sheet of paper with my Grandma's handwriting. It read "Hungarian Keflee Cookie." I told my mom I wanted to try to make these cookies, and we started a new tradition. From then on Keflee Cookies were part of my Christmas tradition.

I am now 52 years old and have made them practically every Christmas since. My children and husband love these cookies. The cookies are an old world classic. I have won two different cookie contests near my hometown of Munster, Indiana. The most recent, winning Best Overall Cookie. That contest was at the annual tribute to the movie "A Christmas Story" in Hammond, Indiana where the story took place, and where the writer, Gene Sheppard was from.

The other contest was eight years ago, and took place two weeks after my mom passed away. I entered the contest at the last minute, delivering the cookies that morning, barely getting them in there on time. I felt I owed this to my mom for helping me roll out the cookie dough as she did 40 years ago. You see I hated rolling out the dough for all these cookies, so she would do it for me. I won first place in "Best Fruit and Nut Category." This award best resembles my families character… Fruit and Nuts.

Enjoy,

Barb Pakan

Humgarian Keflee Cookie Recipe
Ingredients:
6 cups flour
1 pound butter
6 egg yolks
1/2 pint (1 cup) sour cream
1 package of dry yeast – dissolved in 1/4 cup of warm water
Solo filling – apricot or cherry
Granulated sugar for rolling cookies
Instructions:
Mix flour and butter in a large bowl with hands until crumbly. Add egg yolks, sour cream and yeast mixture. Knead until smooth. If you have a KitchenAid stand mixer, the paddle works great.
Divide dough into 10 – 12 balls about the size of a baseball. Place in refrigerator until chilled.
Roll out each ball in a circle, like a piecrust using sugar. Cut dough circle into 8-10 triangular sections through the center and across like a pizza. Place about 1/2-1 teaspoon of filling in each triangle piece and roll into a small crescent. Sprinkle sugar on top.
Bake at 400 degrees F for 10 minutes.
Makes 80 to 96 cookies.