Cookie Costumes
Looking for a fun and unique costume idea?
How about dressing up as Cookie Monster, or the Gingerbread Man from Shrek, Ernie the Keebler Cookie Elf, or even a Giant Chocolate Chip Cookie!
Looking for something a little "cooler" - you could always dress up as a giant Ice Cream Sandwich!
Cookie Monster Costumes
This adult Cookie Monster costume includes the furry blue top and headpiece. It's available in one size fits most adults.
Costume does not include shoes, pants, or cookies as seen in photo.
More Sesame Street costumes are available such as Big Bird and Elmo or a Big Blue Yip Yip or Oscar The Grouch.
Or you could also dress up as a Giant M&M! or your in your favorite Nerds Candy Costume.
---
Me wants cookies!
This child's Cookie Monster outfit is absolutely adorable.
Costume consists of blue plush jumpsuit with a front zipper and attached hood.
Sizes available: 12-18 Months, 2T, 3T-4T, and 4-6X. Availability subject to stock on hand at time of order.
This is an officially licensed Sesame Workshop®, Sesame Street®, and associated characters, trademarks, and design elements are owned and licensed by © Sesame Workshop. All Rights Reserved.
---
Child's Cookie Costume
Yummy Kids Chocolate Cookie Costume!
Feeling nostalgic?
Dressing up your child in this Child's Cookie costume just might be your cure.
This kids costume features a cookie shaped tunic with two soft pieces of cookie.
Sure to be the cutest little cookie in town!
Perfect for Halloween or any themed costume party.
---
Gingerbread Man Costume from Shrek
Who doesn't love Shrek? And who doesn't love Gingerbread Cookies?
This cool child's Gingerbread Man costume is from Shrek. It features purple gumdrop buttons and white frosting accents.
Costume includes a jumpsuit and over-size full head mask.
This is an officially licensed Shrek™ costume.
See more Shrek Costumes.
---
Giant Chocolate Chip Cookie and Milk Costume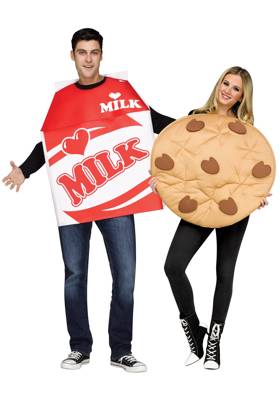 How cool - you can dress up as everyone's favorite Giant Chocolate Chip Cookie!
This unique and delicious Chocolate Chip Cookie and milk costume features a milk carton pullover tunic and a foam cookie on a wire frame that has elastic shoulder straps with "chocolate chip" soft-sculpted embellishments.
See more Food Themed costumes here.
Or, if you'd rather dress up as a cook, check out these Chef Costumes.
Back from Cookie Costumes to The Cookie Shoppe
Back from Cookie Costumes to Best Ever Cookie Collection home
---
---