Yummy Peanut Butter Bars Topped With Chocolate Glaze
If you love chocolate and peanut butter, you'll love this easy recipe for peanut butter bars baked in a pan topped with a simple chocolate glaze.
It's a winning recipe for peanut butter and chocolate fans everywhere.
Did you know the U.S. is the world's largest supplier and consumer of peanut butter?
I'm not surprised. We consider it a staple at our house, often enjoying it on toast for breakfast or as a comforting sandwich at lunch.
We also love to turn peanut butter into a savory sauce for kebabs.
But our absolute favorite way to eat peanut butter is when it is baked into sweet treats such as these bars, peanut butter brownies, and peanut butter cookies.
I can't find a jar of peanut butter large enough to satisfy our cravings.
Go ahead and whip up a batch of these chocolate topped easy peanut butter bars and watch how fast they disappear.
These yummy bars can be made with either creamy or crunchy peanut butter, whichever you prefer.
Peanut Butter Bars Recipe With Chocolate Glaze
1 cup peanut butter
2/3 cup butter, softened
1 teaspoon vanilla
2 cups firmly packed brown sugar
3 eggs
1 cup flour
1/2 teaspoon salt
Preheat oven to 350F degrees.
Grease a 9x13-inch baking pan.
Combine peanut butter and butter in a medium bowl with an electric mixer.
Add the vanilla, brown sugar, and eggs, and beat until smooth.
Stir in the flour and salt until well combined.
Spread the batter evenly into the prepared pan.
Bake for 30 to 35 minutes or until a toothpick inserted in the center comes out clean.
Let cool somewhat.
Meanwhile make the chocolate glaze.
1/4 cups semi-sweet or milk chocolate chips
1 tablespoon butter
3/4 cup confectioners sugar
2 tablespoons milk or water
Melt the chocolate and butter by placing in a microwave safe bowl and gently heating in the microwave being careful not to scorch.
Add the sugar and milk and stir together until smooth and creamy.
Spread quickly over the warm (not hot) bars using a large spatula or back of a spoon.
Cut peanut butter bars into desired shape and size.
This recipe is adapted from Sylvia's Cakes & Breads: Famous Recipes from a Small Maine Kitchen
, a wonderful cookbook, now out-of-print, I picked up years ago while visiting my parents on the coast of Maine.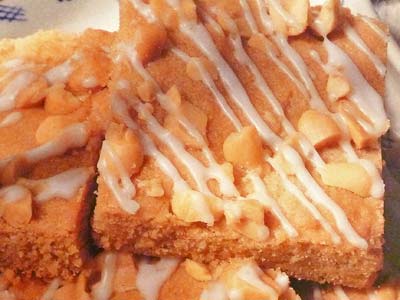 Cookie Mix Peanut Butter Bars Recipe
1 package (17.5 ounce) Peanut Butter Cookie Mix
2 egg whites
1/2 cup chopped peanuts
1 cup confectioners sugar
2 tablespoons water
1/2 teaspoon vanilla extract
Preheat oven to 350F degrees.
In a large mixing bowl, combine peanut butter cookie mix and egg whites and stir until thoroughly blended.
Press dough into ungreased 13x9-inch baking pan and sprinkle chopped peanuts over top and press lightly into dough.
Bake for 16 to 18 minutes or until golden brown.
Remove pan from oven and cool completely on wire rack.
Prepare Vanilla Glaze:
In a small bowl, combine confectioners sugar, water and vanilla extract and stir until blended.
Drizzle glaze over top of bars.
Cut bars into desired size and shape.
More Recipes for Cookie Bars You Might Like
Tools for the Bar Cookie Baker:
Back from Peanut Butter Bars to Bar Cookie Recipes
Back from Peanut Butter Bars to Best Ever Cookie Collection home
---
---